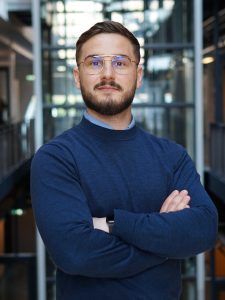 Born in 1998 in La Spezia, Italy, Elia completed his dual BSc degrees in Chemistry and Chemical Engineering from the University of Groningen in 2021. Following this achievement, he earned a cum laude MSc in Chemical Engineering in 2023, under the mentorship of Prof. Dr. Browne. The focus of this research was on utilizing advanced spectroscopic techniques for the development of 3D printable resins for microfluidic applications, as well as microfluidic reactor modeling in both Python and Comsol.
During his tenure at the University of Groningen, Elia held multiple roles, including NMR technician, lab supervisor, teaching assistant, and content manager for several undergraduate courses. They also collaborated with Canon Production Printing (Venlo, Netherlands) on the physical-kinetic modeling of photocurable ink layers and spectroscopic validation of model outputs.
Currently, Elia is pursuing a PhD at NRG, under the guidance of Prof.Dr.Ing. T. Noel, with the aim of advancing the innovative field of machine learning and spectroscopy applied to flow chemistry, as a part of the EIC Pathfinder "ReaCtor" project focusing on high efficiency opto-fluidic reactors.
E-mail: e.savino@uva.nl