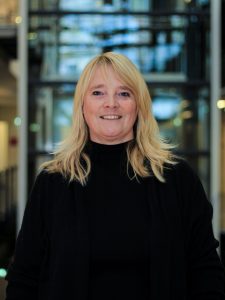 Dorette Tromp was born in Nieuwegein, a town in the middle of the Netherlands, just below Utrecht. After receiving her B.Sc. in synthetic organic chemistry, she studied chemistry at the University of Utrecht where, in 1998, she received her M.Sc. with honors in organic and organometallic synthetic chemistry.
In 1999, she started her career at the University of Amsterdam as an organometallic research scientist in the group of Prof. Kees Elsevier, where her research was focused on the synthesis of platinum and palladium complexes of diazabutadienes and N-heterocyclic carbenes. More recently, together with Prof. Bas de Bruin, she studied the carbene polymerization of hydroxy-group containing carbenes with a stereo-specific rhodium catalyst. She also collaborated with Prof. Jarl-Ivar van der Vlugt on the synthesis of redox-active ligands and the zinc complexes thereof.  In addition to her work at UvA, she worked as a chief lab analyst at Spark 904, a spin-off company of the UvA.
In the Noël Research Group, she will do the general management of the laboratory and she will aid new team members with the on-boarding process. Her research in the group will focus on flow photo- and electro-chemistry.
Her motto in daily life is: "See the past as a learning book to live your life in the future"
E-mail: d.s.tromp@uva.nl